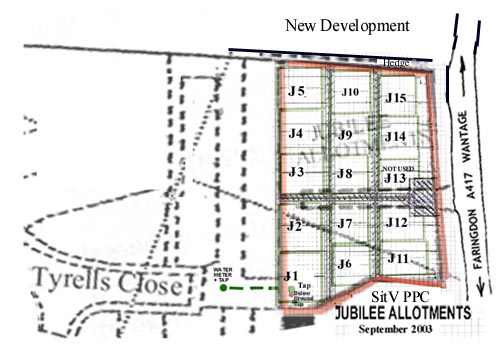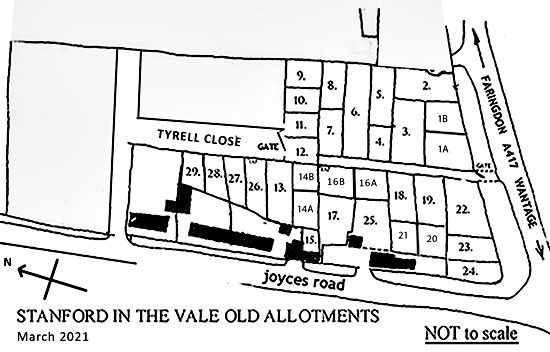 STANFORD IN THE VALE PUBLIC PURPOSES CHARITY ALLOTMENT RULES

General Conditions
All Allotment Holders shall comply with the following Rules:
They shall keep their allotments clean and in a good state of cultivation and fertility.
They shall NOT cause any nuisance or annoyance to other allotment holders or obstruct or encroach upon any path set out by the PPC around or in the allotment area.
They shall NOT, without the written consent of the PPC, cut or prune any timber or trees or take away any minerals, gravel, sand or clay.
They shall NOT sub-let, assign or part with the possession of the allotment or any part of it without written permission of the PPC.
They shall maintain and keep in good repair any path forming part of or adjoining their allotment.
They shall NOT erect any tool-sheds or other buildings on the allotment.
They shall NOT use barbed wire on any part of the allotment site.
Any animals on the allotment site must be kept on a lead.
They shall NOT rent more than one allotment unless all requests for allotments have been satisfied or in special circumstances agreed by the PPC.
They shall be answerable to the PPC who may find it necessary to write to allotment holders who do NOT keep their allotment in good order. In the worst case the allotment may be given to a new allotment holder taken from the waiting list.
Allotment holders should note that the wooden boundary fences do NOT belong to the PCC, so they are requested NOT to hang or lean items on these fences
Allotment holders should consider neighbouring houses and the wind direction when burning any material. The smoke must NOT create any offence to the neighbours.

Payment of Rents
The rent of each allotment shall, unless otherwise agreed in writing, be due yearly by the last day of February. This rent shall be fixed on an annual basis as decided by the PPC.
Inspection of Allotments
Any PPC Trustee shall be entitled at any time to enter and inspect any allotment.
Termination of a Tenancy
The tenancy of an allotment shall, unless otherwise agreed in writing, terminate on the last day of February, or 31 August following the death of the tenant, and shall also terminate whenever the possession of the land occupied by the PPC terminates.
A tenancy may also be terminated by the PPC after one month's notice:
If the rent is in arrears for more than twenty-eight days;
If the tenant is NOT observing the rules affecting the allotment or any other terms and conditions of their tenancy.
The tenancy may also be terminated by the PPC or the tenant by giving six months' notice in writing by the last day of February or the 31 August in any year of the tenancy.
By Order of the Public Purposes Charity, Stanford in the Vale
1 March, 2023